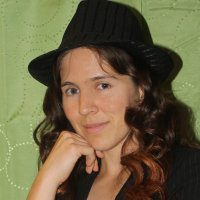 Anna Castiglioni
Fiction, Fantasy, Action And Adventure, Romance
Profession

Voiceover and Author
Voiceover, adventure, stories
I enjoy the Classics: Shakespeare, Tolkien, McCaffrey. Fantasy, Sci-fi, and high adventure are my favorite genres to read, and recently I've taken up a few romances, and was surprised to find I enjoyed them too.

I write non-fiction book about Landscape Design, which has been my professional career for over 10 years.
My fiction writing is inspired by many things: the aforementioned greats, my own life experiences, and even my dreams. I write mostly fantasy, realistic fiction, and poetry, but have recently forayed into romance, and even a Western.

I am now a professional full-time voice actor and audiobook narrator. I love acting and bringing stories to life! I currently have 9 audiobooks on Audible, all under narrator "Anna Castiglioni"
A good book is an event in my life.
Stendhal